Description
Veichi SI23 Solar Pump Inverter Overview
The SI23 solar pump inverter has a simple and elegant appearance, and the book-type structure design saves installation space. Smart IOT brings smart irrigation.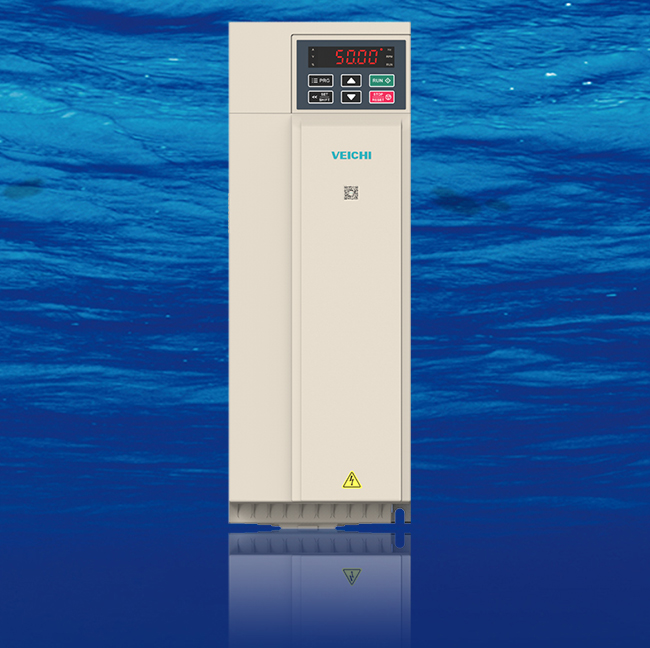 1. The new book-style narrow structure design greatly saves installation space.
2. Abundant expansion interfaces and new expansion accessories to meet various needs.
3. The new air duct design makes the heat dissipation effect even better.
4. Adapt to the intelligent IoT module, big data remote control.
5. A variety of features to meet the needs of various markets and users.
6. The maximum power is 710kw, multiple voltage levels, suitable for multiple countries and regions.
7. Synchronous and asynchronous drive integration, comprehensive open, and closed-loop.
8. The new control algorithm makes the drive more stable and efficient.
New appearance, narrow-body structure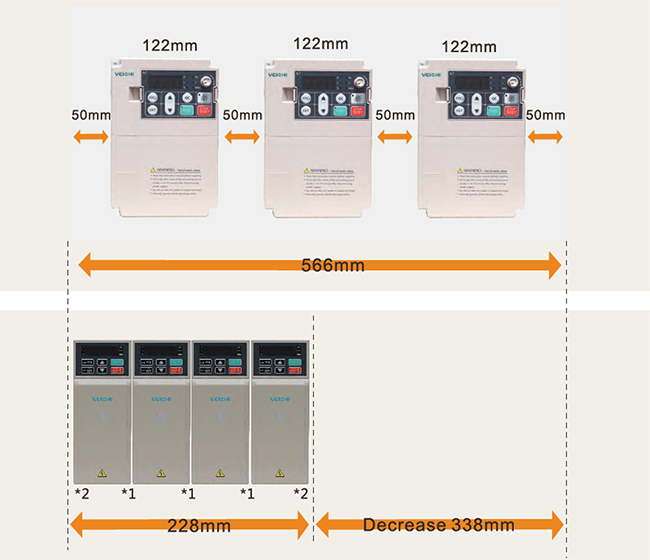 1. The book's narrow-body structure saves up to 60% of the volume.
2. New keyboard design, simple appearance, and easy operation.
3. European-style terminals improve wiring efficiency.
Easy to debug, excellent expansion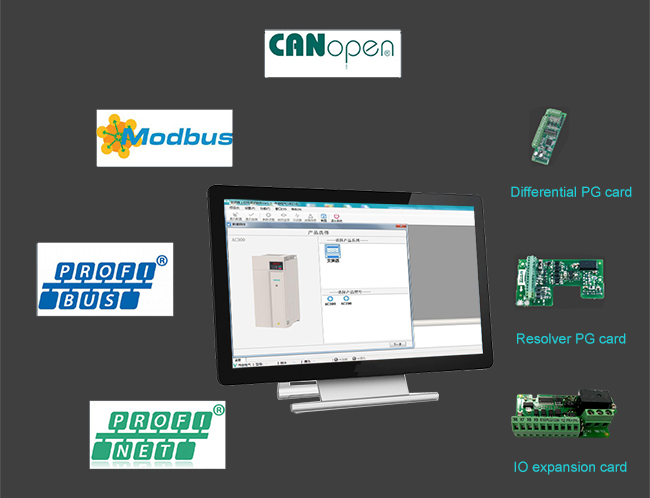 1. Professional PC software, one-key reading of debugging parameters.
2. The virtual oscilloscope diagnoses accurately and observes the data curve.
3. Support 485 communication, SPI, GPRS, PG card, and other expansion interfaces.
Exquisite structure, prolong the life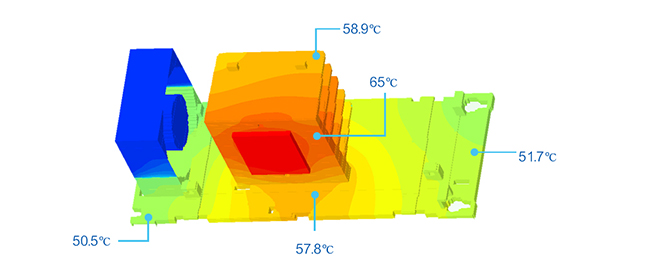 1. The device is separated from the air duct to improve the environmental resistance of the machine.
2. The wide tooth surface efficiently dissipates heat to ensure no derating of full power.
3. Strict selection of high-quality parts, scientific layout, prolong life.
Tailor-made photovoltaic functions
1. MPPT control mode, adjust the output frequency to the appropriate frequency in real-time.
2. Complete water pump protection functions extend the life of the water pump.
3. The Custom PQ curve allows users to understand information such as accumulated flow and power generation.
4. Multiple functions such as AC/DC mixing, timing, cleaning, etc. meet market demand.
Complete variety, each one needs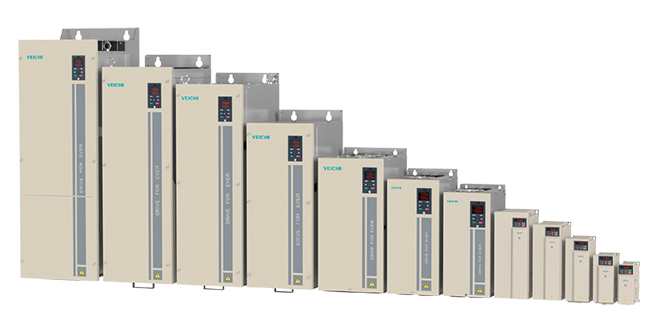 1. The power range is from 0.75kw to 710kw.
2. The voltage level is from 72v to 380v to adapt to various motors.
3. Both stand-alone and group cabinets can meet the demand.
The industry's top software algorithm

1. Supports multiple pump motors such as synchronous, asynchronous, single-phase, and synchronous reluctance.
2. The advanced self-learning algorithm is accurate and consistent.
3. High broadband current vector, 12 times the field weakening high precision output.
Intelligent IOT, data age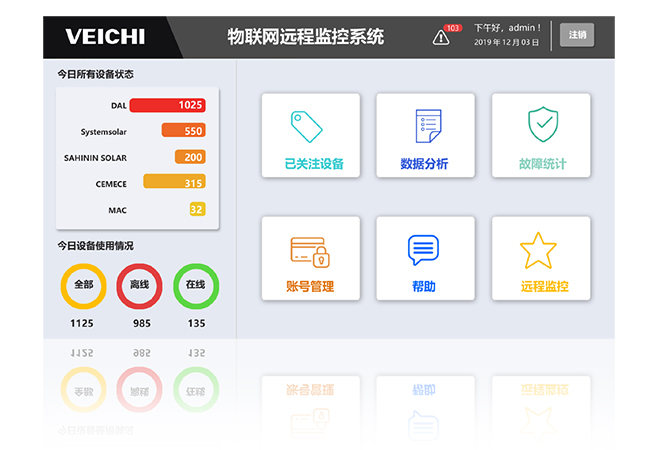 1. Support GPS positioning, WIFI data connection, offline data storage.
2. The new IOT platform design is simple and generous.
3. The big data platform displays the most concerning data such as cumulative power generation and flow.
4. Automatic identification of APN when power on, various remote data analysis equipment, routing one-click connection.
The introductory Video of VEICHI SI23 Solar Pump Inverter
Industrial Applications for SI23 Series Solar Pump Inverter
Applications:Farmland irrigation, residential water, landscape fountains, swimming pool water supply, desert management
Specifications
SI22-D1 Series, DC60-400VDC Input, 3 Phase 110-230VAC Output, Suitable for 110VAC Pump

| | |
| --- | --- |
| Solar pump inverter power(KW):0.75KW | Voltage: 110VAC, Current: 7A, Frequency: 0-320Hz |
| Solar pump inverter power(KW):1.5KW | Voltage: 110VAC, Current: 10A, Frequency: 0-320Hz |
SI23-D3 Series,DC150V-450V Input, 3 Phase 220-240VAc Output

| | |
| --- | --- |
| Solar pump inverter power(KW):0.75kW | Voltage: 220VAC, Current: 4A, Frequency: 0-320Hz |
| Solar pump inverter power(KW):1.5kW | Voltage: 220VAC, Current: 7A, Frequency: 0-320Hz |
| Solar pump inverter power(KW):2.2kW | Voltage: 220VAC, Current: 10A, Frequency: 0-320Hz |
| Solar pump inverter power(KW):4kW | Voltage: 220VAC, Current: 16A, Frequency: 0-320Hz |
SI23-D5 Series,DC250V to 780VDC Input, 3 Phase 380-460VAC Output

| | |
| --- | --- |
| Solar pump inverter power(KW):0.75kW | Voltage: 380VAC, Current: 3A, Frequency: 0-320Hz |
| Solar pump inverter power(KW):1.5kW | Voltage: 380VAC, Current: 4A, Frequency: 0-320Hz |
| Solar pump inverter power(KW):2.2kW | Voltage: 380VAC, Current: 6A, Frequency: 0-320Hz |
| Solar pump inverter power(KW):4kW | Voltage: 380VAC, Current: 13A, Frequency: 0-320Hz |
| Solar pump inverter power(KW):5.5kW | Voltage: 380VAC, Current: 13A, Frequency: 0-320Hz |
| Solar pump inverter power(KW):7.5kW | Voltage: 380VAC, Current: 17A, Frequency: 0-320Hz |
| Solar pump inverter power(KW):11kW | Voltage: 380VAC, Current: 25A, Frequency: 0-320Hz |
| Solar pump inverter power(KW):15kW | Voltage: 380VAC, Current: 32A, Frequency: 0-320Hz |
| Solar pump inverter power(KW):18.5kW | Voltage: 380VAC, Current: 38A, Frequency: 0-320Hz |
| Solar pump inverter power(KW):22kW | Voltage: 380VAC, Current: 45A, Frequency: 0-320Hz |
| Solar pump inverter power(KW):30kW | Voltage: 380VAC, Current: 60A, Frequency: 0-320Hz |
SI23-T3 Series,DC350V to 780VDC Input,3 Phase 380-440VAC Output

| | |
| --- | --- |
| Solar pump inverter power(KW):37kW | Voltage: 380VAC, Current: 75A, Frequency: 0-320Hz |
| Solar pump inverter power(KW):45kW | Voltage: 380VAC, Current: 90A, Frequency: 0-320Hz |
| Solar pump inverter power(KW):55kW | Voltage: 380VAC, Current: 110A, Frequency: 0-320Hz |
| Solar pump inverter power(KW):75kW | Voltage: 380VAC, Current: 150A, Frequency: 0-320Hz |
| Solar pump inverter power(KW):90kW | Voltage: 380VAC, Current: 180A, Frequency: 0-320Hz |
| Solar pump inverter power(KW):110kW | Voltage: 380VAC, Current: 210A, Frequency: 0-320Hz |
| Solar pump inverter power(KW):11kW | Voltage: 380VAC, Current: 25A, Frequency: 0-320Hz |
| Solar pump inverter power(KW):132kW | Voltage: 380VAC, Current: 250A, Frequency: 0-320Hz |
| Solar pump inverter power(KW):160kW | Voltage: 380VAC, Current: 310A, Frequency: 0-320Hz |
| Solar pump inverter power(KW):185kW | Voltage: 380VAC, Current: 340A, Frequency: 0-320Hz |
| Solar pump inverter power(KW):200kW | Voltage: 380VAC, Current: 380A, Frequency: 0-320Hz |
| Solar pump inverter power(KW):220kW | Voltage: 380VAC, Current: 415A, Frequency: 0-320Hz |
| Solar pump inverter power(KW):250kW | Voltage: 380VAC, Current: 470A, Frequency: 0-320Hz |
| Solar pump inverter power(KW):280kW | Voltage: 380VAC, Current: 510A, Frequency: 0-320Hz |
| Solar pump inverter power(KW):315kW | Voltage: 380VAC, Current: 600A, Frequency: 0-320Hz |
| Solar pump inverter power(KW):355kW | Voltage: 380VAC, Current: 670A, Frequency: 0-320Hz |
| Solar pump inverter power(KW):400kW | Voltage: 380VAC, Current: 750A, Frequency: 0-320Hz |
| Solar pump inverter power(KW):450kW | Voltage: 380VAC, Current: 810A, Frequency: 0-320Hz |
| Solar pump inverter power(KW):500kW | Voltage: 380VAC, Current: 860A, Frequency: 0-320Hz |
| Solar pump inverter power(KW):560kW | Voltage: 380VAC, Current: 990A, Frequency: 0-320Hz |
| Solar pump inverter power(KW):630kW | Voltage: 380VAC, Current: 1100A, Frequency: 0-320Hz |
| Solar pump inverter power(KW):710kW | Voltage: 380VAC, Current: 1280A, Frequency: 0-320Hz |
Power Range

| | |
| --- | --- |
| Power range | 750 W-710,000 W |
Input Power Supply
Voltage and frequency
D1 model:90-400VDC/single-phase 110VAC 50/60HZ
D3 model:150-450VDC/ single-phase 220VAC 50/60HZ
D5 model:250-750VDC/ three-phase 380VAC 50/60HZ
T3 model:350-780VDC/ three-phase 380VAC 50/60HZ
Allowable fluctuations
Voltage imbalance rate:<3%
Frequency fluctuation:±5%
Distortion rate: Conform to IEC 61800-2
Frequency inverter efficiency

≥96%

Recommended voltage Voc
D1 model:175-360VDC
D3 model:360-430VDC
D5 model:620-750VDC
T3 model:620-750VDC
Output

| | |
| --- | --- |
| MPPT efficiency | reaches 99.9% |
| Output frequency range | 0-320Hz (320 Hz or higher frequency can be customized) |
| Overload capacity | 150% rated current 1min; 180% rated current 10s; 200% rated current 0.5s |
Protection Functions

| | |
| --- | --- |
| Solar pump protection functions | Dry protection, low frequency protection, minimum power protection, sleep protection, overwater protection, pump overcurrent protection, etc. |
| Basic protection functions | Overvoltage, undervoltage, inverter overcurrent, module fault, inverter overload, motor overload, current detection zero-drift fault, current detection fault, E2RCM fault, grounding short-circuit fault, input phase loss, output phase loss , inverter overheating, communication fault, motor parameter self-learning fault, etc. |
| Short-circuit detection of motor grounding | Automatic detection whether the motor is Short-circuit to ground in power-on |
| Servo control | Support synchronous and asynchronous servo control, perform pulse tracking, zero servo, indexing positioning and other basic servo functions, and support the orthogonal pulse given. |
| Communication network | Supports RS485 communication, to realize network and linkage control between VEICHI inverters |
| Remote monitoring | Supports remote program upgrade, data monitoring and lock function, can connect VEICHI GPRS module, and supports VEICHI virtual oscilloscope for monitoring and debugging |
Surroundings

| | |
| --- | --- |
| Installation location | Outdoor, less than 1000m altitude, keep away from corrosive air and direct sunlight |
| Temperature and humidity | -10-60°C, 20%-95%RH (no condensation) |
| Vibration | The vibration is less than 0.5g when the vibration frequency is less than 20Hz |
| Storage temperature | -20~60℃ |
| Installation mode | Suspension installation |
| Protection class | IP20 |
| Cooling method | Natural cooling/forced air cooling |
International Certification
International certification
CE Standard Comformance:IEC 61800-3:2018, IEC 61000-3-2:2019
EN 61000-3-3:2013
EN 61800-5-1:2007+A1:2017